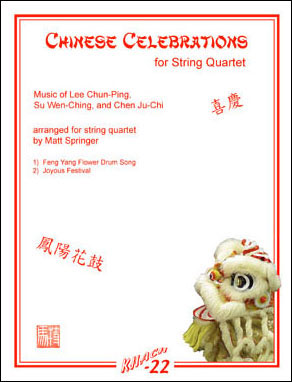 I wanted to design an eye-catching cover design for this music that was simple and reminiscent of my first Khach-22 publication, Four Pieces from the Gayane Ballet Suite. I liked the idea of having an enthusiastic and curious Chinese lion peer in from the corner of an otherwise open and minimal cover, so I searched the web for an image of a Chinese lion on which to base this picture. I found a beautiful photo of a lion dance costume with a great smile, which was also against a white background and therefore was easy to pluck out of the photo and alter for a cover design. I added some extra trimmings and removed the identifying Chinese characters from the costume, and used a digital filter to turn the photograph into more of a brush stroke painting.
However, as it was still quite recognizeable as the original photo even after the alterations, I looked it up again to find out who I would need to approach for permission to use the photo. Having searched the World Wide Web, I assumed I would need to contact someone on the other side of the world, but I encountered a reference on the search page to World Arts West, which sounded slightly familiar. The photo was a publicity photo taken by Bonnie Kamin of the Fook Sing Lion Dance Troupe at an ethnic dance festival; to be exact, the 2005 San Francisco Ethnic Dance Festival. I had played in that three-week festival myself! I had performed with the group to which I used to belong, the South Bay Chinese Orchestra, the week after this lion dance group had performed.
The coincidences did not stop there. It later turned out that the two young men in that lion dance costume, Marcus and Louis Leong, take erhu classes from friends of mine through a program run by Melody of China, the professional Chinese performing group in San Francisco with which I have played a couple of times in the past. That same program runs an adult amateur performing ensemble to which I belonged when this cover was designed. Thus, not only did my world-wide search lead me right into my own back yard, it came full circle into my own extended musical family!